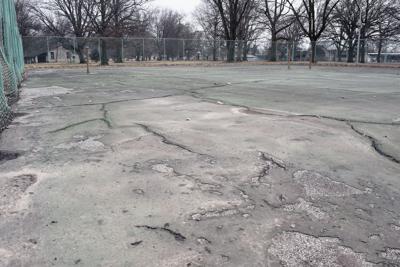 After months of waiting, local pickleball lovers may soon get their playing courts.
Steve Beaman, superintendent of the city's Parks and Recreation Department, said he's officially decided to abandon the planned striping for pickleball the newly re-surfaced courts at Four Lakes Park.
Instead, courts at Gregg Park will get the treatment instead.
"We're going to take those tennis courts and resurface them for pickleball," Beaman said. "We'll put six courts at Gregg Park instead (of Four Lakes)."
After the city's Redevelopment Commission last year voted to spend upwards of $350,000 sprucing up Four Lakes Park, the parking lots and courts were resurfaced, and plans were made to have lines painted and nets put up for pickleball.
That's been nearly a year ago.
In the meantime, Beaman said they've decided the larger and more-frequented Gregg Park a better location as local interest in the sport continues to grow.
"There's just not the amount of people playing tennis that there used to," Beaman said. "For whatever reason, (interest in tennis) seems to be falling off. And not just here, it seems, but a lot of places.
"There is a growing number of people who are playing pickleball now," he said, referencing a large group that play regularly at the YMCA of Vincennes. "So we think it's a better move for us to fix up the courts at Gregg Park and allow those people to have that larger space."
The courts at Four Lakes Park, Beaman said, since they've never been painted, will be set up as tennis courts.
"So we'll still have tennis courts within the parks system," he said.
Beaman said the parks board has been working with a local group of pickleball players as well as Mayor Joe Yochum on figuring out how to pay for it all.
Courts of similar size in other communities, he said, have cost upwards of $25,000.
But the pickleball players themselves, he said, have taken the lead on the project and plan to arrange for most of the work to be donated. Some of them, he said, have "strong connections" and have looked to similar pickleball groups in Sullivan and Washington as well as Olney, Illinois, for guidance.
Beaman said the mayor and the parks board, too, are financially committed to making the pickleball courts a reality, and he says they'll be done sooner rather than later.
"We're hoping to have it all done before May or June," Beaman said. "We've had multiple meetings about it this winter."
Also as part of the pickleball project, improved lighting will be added to the courts there as well.
When it's all done, Beaman said he looks forward to a whole new group of people using Gregg Park, and he hopes to see tournaments there, just like another group of local enthusiasts did in 2016 with the sprucing up of some old horseshoe pits located inside the park just off Washington Avenue.
"Most of all, we just want to fit the need of this growing sport," Beaman said of the pickleball project. "And this is really going to brighten up an area of (Gregg) park that we've not been able to really keep up."
Beaman added that he hopes to see the tennis courts finished at Four Lakes sometime this spring as well.
"Either way," he said, "both of these are a done deal."