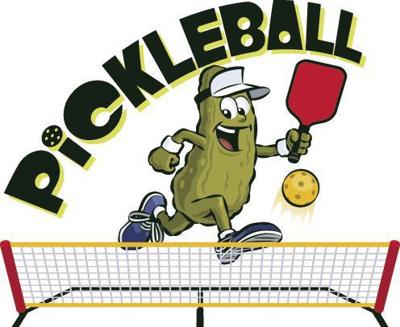 O
Radio Days, sponsored by the Rotary Club of Montpelier, is this Saturday, April 27th. The project this year is to raise money to refurbish some of the tennis courts at Wells C. Stock Park. They are unusable at this time and will continue to deteriorate if no improvements occur. The goal is to refurbish some of the tennis courts with sports tiles. The refurbished courts would be used primarily for pickleball, but could also be used for tennis and basketball.
What is pickleball? It is a game that was started in 1965 and is now one of the fastest growing sports in the United States, if not the world. Pickleball is a cross between tennis, badminton, and ping pong, played on a short court. You can fit four pickleball courts on one regulation size tennis court. It is played with a paddle and a whiffle ball. It is a sport that is enjoyed by all ages, from the very young to the very senior. Many players are 60, 70, 80, and even 90-year-olds. Pickleball players have also taught their children and grandchildren how to play. They have seen two-year-olds hit balls and be so excited that they can connect the paddle with the ball. It is truly a sport for all ages that can bring families together.
This fun activity is a great exercise that can involve everyone, will get people moving and help alleviate obesity overall. Participation in this activity will help make the community healthier as a whole. We have found that most people who try pickleball twice are "hooked" and want to continue playing. Pickleball courts would give young people a place to recreate, get moving, and stay out of trouble.
Cost wise, pickleball is very reasonable, as you can get started playing from between $30-$40. The cost would make it accessible to most everyone. There are several other benefits of playing pickleball. It is a very social activity that brings people from all backgrounds together, creating new friends. The high school students would also benefit from this. In the past, during school hours, students have gone to the courts to learn tennis. They could now learn pickleball, which is much easier and faster to learn and could enjoy associating with all persons, as well as, learn something they can enjoy throughout their lives. There is a high school student who is spearheading a pickleball tournament for his Senior Project and putting all money he raises back into the community through the Bear Lake Education Foundation. Refurbished courts will be an opportunity to introduce pickleball to the community and to generate more interest in the sport.
Improved courts have the potential to attract people from all over, which could be used both day and night. Several local pickleball players have participated in tournaments and can testify to how popular they are. The competitions attract people from all over the country and help support the local businesses. There are many pickleball players in the Bear Lake area, but at this time, there are a limited number of courts to play on. The players have pledged to support Radio Days. Your support is needed. PLEASE HELP!!!
Content retrieved from: https://www.hjnews.com/montpelier/news/radio-days-picklebball/article_5f215006-7d3b-5b6d-91ff-3849a207f5a4.html.