The nation's pickleball craze is making its way to Overland Park — in the form of two local and competing concepts less than 10 minutes from each other. Upping the ante: Both plan a fall 2020 opening.
North Kansas City-based Chicken N Pickle plans its fifth location — and second in the metro area — in the Prairiefire development. West down 135th Street, Leawood-based Pickle Bar Partners LLC plans its Pickle Bar + Kitchen at Switzer Road near the Scheels Overland Park Soccer complex.
"The competition's a good thing," David Johnson, founder and principal of Chicken N Pickle, told the Kansas City Business Journal.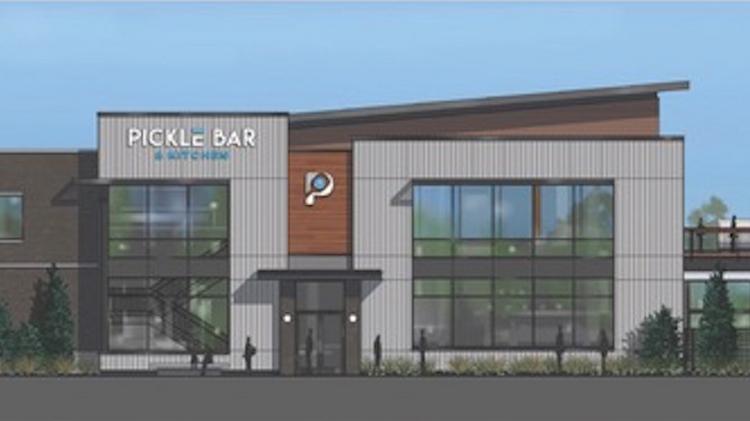 The two local concepts have several similarities, including a focus on family-friendly entertainment. Both will offer a mix of yard games, a year-round rooftop deck, and indoor and outdoor pickleball courts. They also will serve alcohol and will feature a menu that focuses on wood-fired items. Both will offer an indoor space that includes additional games and stages for live entertainment.
But patrons also can look forward to differentiating factors. Pickle Bar has a private pickleball court, a beer garden and four private cabanas with two TVs each. It also plans to host a variety of leagues — from cornhole to pingpong — as well as events such as movie nights and yoga on the lawn. Another bonus is panna soccer. Pickle Bar also will incorporate a retail component in which patrons can buy supplies such as pickleball paddles, balls, T-shirts and other gear.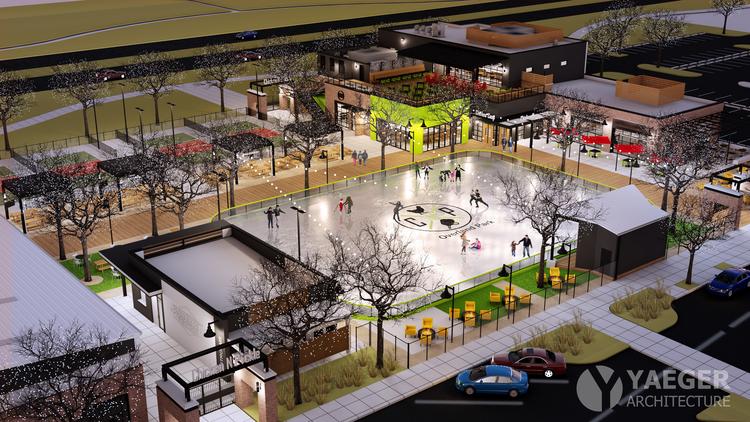 Chicken N Pickle will offer a differentiator to keep patronage up during the winter: It will feature an ice skating rink that will be available for open skates, hockey and curling.
Plus, the company has refined its concept, and its fifth location is expected to serve up much more success than its first in North Kansas City, Johnson said. That's not to say its North Kansas City location is hurting, however. Based on sales and average ticket price, the company estimates that about 350,000 people visited its area location during the first year in 2017, and year two had nearly 400,000 visitors, Kellen Mumm, vice president of business development, said in a previous interview.
"We're anxious to prove that two Chicken N Pickles can exist in a large metropolitan area. We're not a one-store town," Johnson said. "We plan to do multiple stores somewhere else (in the future), but we want to do Kansas City first because that's where our roots are."
Chicken N Pickle's new Prairiefire location will occupy less than 2 acres at the mixed-use development and will include the construction of an 8,000-square-foot restaurant.
Pickle Bar Partners will open its 36,000-square-foot facility at a long-undeveloped site at Switzer and 135th.
"It's been vacant for as long as I can remember," Pickle Bar partner Jeremy Alpert said of the site. "It's kind of shocking to me that no one else has tried to do anything there."
Including the cost of land, Pickle Bar's project will cost nearly $15 million, Alpert said. Chicken N Pickle estimates that its investment will range between $16 million and $17 million, Johnson said.
For Pickle Bar, south Overland Park was attractive for several reasons, including a dense area of mixed income levels and ages and the fact that there's not many entertainment options for area businesses to host meetings or parties. It's a void Pickle Bar wants to fill, Alpert said, and its space will be able to accommodate 16 different parties simultaneously.
"We're trying to create a place where you could come here, and every single time, you could have a different experience," he said.
https://www.bizjournals.com/kansascity/news/2019/09/05/chicken-pickle-pickle-ball-partners-overland-park.html